Wilderness Navigation
Arrive Friday, August 21st and instruction on Saturday and Sunday August 22 & 23, 2015
Navigation skills are as important as knowing how to make a fire…maybe even more so. If you can read a map and compass, you can often get yourself out of many of the dangerous circumstances that can suddenly develop in the backcountry, no matter how well prepared you are.
Join us for this comprehensive course taught by former New Hampshire Game Warden Rick Estes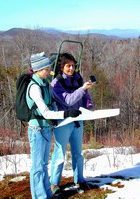 Today, most people rely on GPS technology to plot their way through city streets, highways, or mountain trails. While a GPS unit is an important navigation tool, it's not a magic wand. In the backcountry, batteries fail; satellite signals are interrupted. And, if you don't know how to properly use a map and compass, then GPS positioning and readings will mean very little to you.
We've designed our two-day course to teach you the age-old methods of wilderness navigation and how to incorporate these skills with modern technology. The first day of class focuses exclusively on learning how to read a map and compass, as separate tools and in tandem with each other. Each in-class discussion will be followed by practical, hands-on exercises in the field.
On the second day of class, we'll add a GPS unit into the equation, demonstrating how to best incorporate the satellite data with your map readings. Significant time will also be spent in the field honing your technique.
Rick Wilcox, president of an all-volunteer search and rescue organization in the Mount Washington Valley, has commented, "The GPS has become an essential tool for search and Rescue. Rick's course was on the money and has become the standard for Mountain Rescue Service."
Whether you're interested in day trips or multi-day adventures, this course will help you know how to stay safe in the backcountry.
What to bring
Compass
GPS unit (not mandatory if you do not own one)
Suitable clothing for spending time outside
Price: $385 per person for two full days of instruction, two nights meals and lodging. The class will be limited to 10 students, and a minimum enrollment is required for it to be held.

A Little About Rick Estes
Rick spent 28 years with the New Hampshire Fish and Game Department as a game warden, a career that took him to every nook and cranny of the Lakes Region and the White Mountains. He fine-tuned his wilderness skills not only in fishing but also in wilderness navigation and survival during his tenure. Because of his work in the search and rescue community, Rick was named N.H. Fish and Game team leader for the state's specialized search and rescue team, and he was instrumental in implementing GPS technology into search and rescue operations.



Contact us for more info