Winter
We've winterized 12 cabins with electric &/or propane heaters and wood stoves, so your stay will be perfectly comfy and cozy. The cheerful lakefront dining room will be serving 3 hot, delicious meals a day and we are licensed to serve beer and wine. Maine has a tough OUI law and we do our part by limiting adult beverages to no more than two.




Snowmobiling
Why not include Bosebuck Mountain Camps in your Snowmobiling Plans this winter. We are directly on the trail (ITS 84) in Maine on the NH border,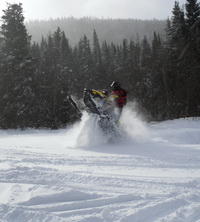 approximately midway between Pittsburg, NH and Rangeley, ME. We provide overnight lodging, gas, food (breakfast, lunch, dinner) and ME snowmobile registrations. The facility is at an elevation of about 1600 ft in the heart of the Maine/NH snowbelt. Due to the elevation and mountain effects, it often snows at camp everyday. It is not uncommon to experience white-out conditions at camp while it is sunny in Rangeley, Errol and Pittsburg. Be sure and watch our Web Cams and see for yourself. At Bosebuck, you are already in the heart of the best riding there is. So, just bring your sleds and be ready for a unique experience like none other.
See the Local Snowmobile Map HERE
Snow Totals for Bosebuck HERE
For Local Trail Conditions Visit the Rangely Lakes Snowmobile Club Website
For New Hampshire Trail conditions Visit the Pittsburg Ridge Runners Snowmobile Club




Other Winter Activities
Snowshoeing, Cross Country Skiing, Birding, Photography or call to make arrangements for a dog sled ride.
Don't get lost in the woods!
Navigation is a necessary Wilderness skill that no outdoors person should be without. Join us August 12-14 for a 2 day Wilderness Navigation Clinic by former New Hampshire Game Warden Rick Estes. Find out more Here



Contact us for more info